[amazon_link asins='B01LTHXAO0,B01LTHXAOU' template='ProductCarousel' store='tjnebl-20′ marketplace='US' link_id='2c23c97c-d8e2-11e6-928d-5be15f8e5b30′]
My new MacBook Pro 15 inch with Touch Bar and Touch ID just came yesterday.  I quickly got it set up by transferring settings and apps from my "old" mid-2014 MacBook Pro.
Is the new 2016 MacBook Pro worth getting?  In short, yes.  Especially if you're a tech geek or use your computer a lot, or if you travel a lot.  If you don't use your computer much or you get overwhelmed with new technology, then I'd say no.  I'm not saying the Touch Bar is overwhelming, but someone of an older generation might get confused since they are dynamic, digital "buttons".
I've only had it 24 full hours now, but I've thoroughly enjoyed using it.  Unlike the difference between the 2014 and 2015 MacBook Pro, the 2016 model is worth the upgrade.  Let alone the Touch Bar and Touch ID, it's available in a sleek Space Gray color, which is what I got, or you can get Silver, which is like the traditional MacBook color.  It's a good bit thinner and noticeably lighter.  This is why I mentioned if you travel a lot, it might be worth the upgrade because it's thinner and lighter – smaller all around actually.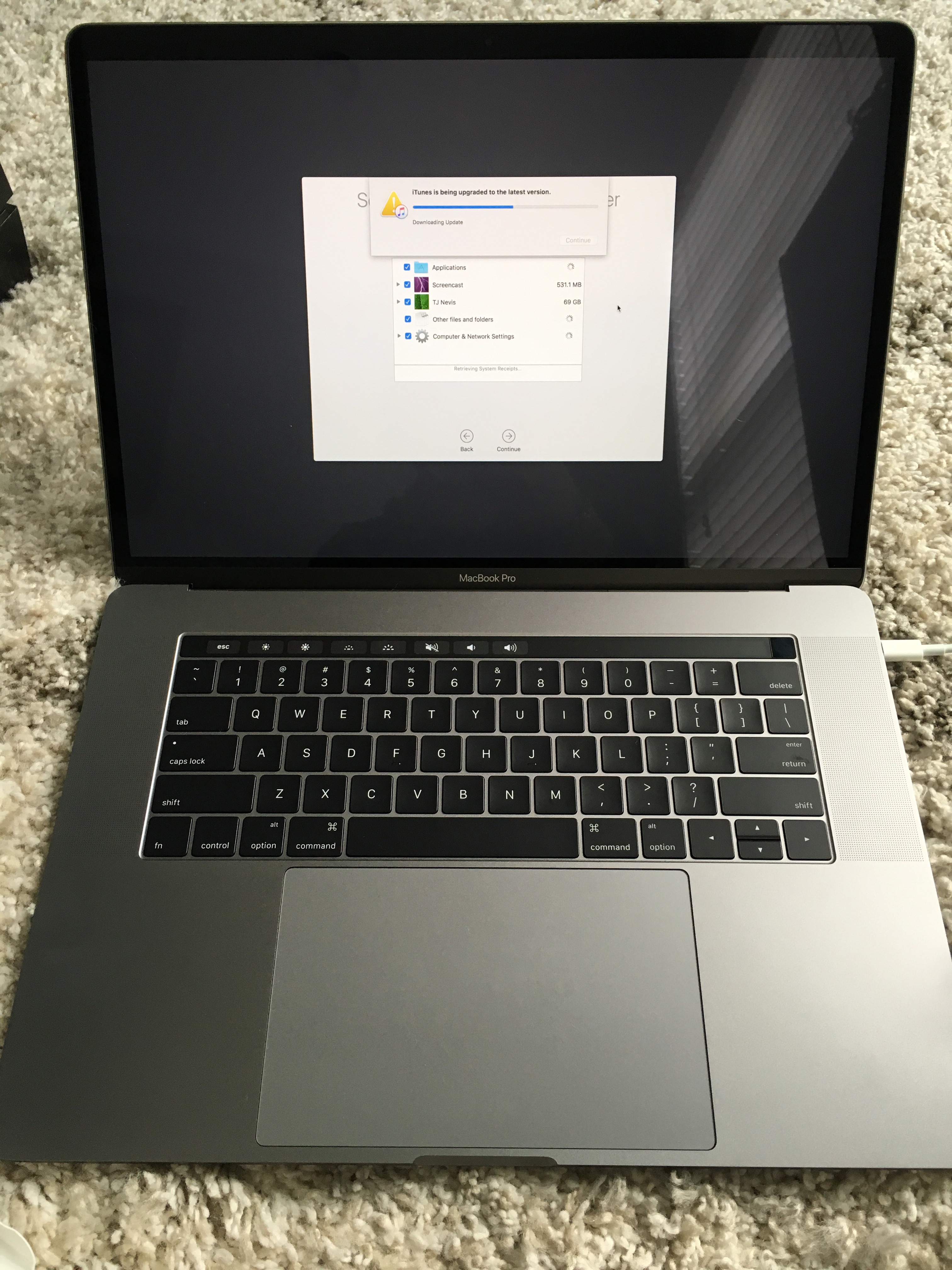 The Touch ID is pretty cool.  If you're familiar with the feature on the iPhone and iPad, it works the same, but the button just has a different feel.  You can unlock the computer when you start work or install programs with your fingerprint instead of typing in your password over and over.  For someone like me who tries new software a lot or if you're someone who gets up from your desk a lot just to come back and type in your password to unlock it, that's a nice feature.
The Touch Bar is really cool too.  To be honest, I haven't used it too much yet – I haven't used it at its full potential.  I can see how it is convenient, not just cool to look at.  It's not bright or shiny, it's like a Kindle E-Reader screen, but with color (maybe you can get a Kindle Paper in color, I'm not sure).  It's also not the type of display that captures fingerprints, at least not that I've noticed yet…it seems like it will stay clean even with use.
What does the Touch Bar do?  Well, there are keys that always show, like the ESC key, a volume mute button, a volume button (I'll explain), and the Siri icon.  As you switch programs, different buttons become available…like when you go into Finder, view option buttons show.  When you have a pop up, that shows up – like if you choose to restart, you'll see Cancel and Restart show up on the Touch Bar.  The volume mute button does just that, but the other volume button I mentioned, when clicked, opens a draggable volume bar.  Don't worry, the volume up and down by one block at a time is still available.  When you click the arrow to the left of the volume mute button, the typical row buttons show, like Play/Pause, Next, Previous, and the volume Up/Down buttons that allow you to increase or decrease the volume one block at a time.
In Messages, the Touch Bar is pretty fun.  You can either scroll through all of the emoji's or choose a category and you'll be moved to that category – I say moved, because you can move to the previous or next category even if you've chosen a category.
What's also nice about the Touch Bar, in Messages, or any application you type in, suggested words show up just like on the iPad and iPhone.  So if you don't know how to spell a word, you can click the suggestion.
There are concerns about the built-in ports missing and the need to buy dongles to get features that are included in other computers, and past MacBook Pro's.  First, the new MacBook (not Pro) is already like that, with last year's release.  There was concern about removing the DVD drive, but nowadays I don't even know when the last time I used a DVD drive was, and you can always get a nice external CD/DVD burner for $30-50.  Plug and play, easy.  The same idea goes for the other missing ports, which I'm all for.  I love making computers thinner and lighter.  Grabbing one or two USB-C to USB and maybe a USB hub is all you'd need to plug in necessary peripherals.  I have a Mobee Magic Bar…a rechargeable battery for my keyboard and mouse.  I think the newer Magic Keyboard, Magic Trackpad, and Magic Mouse have a way to recharge built in, from Apple.  I have the older Magic Keyboard and Magic Trackpad.  I also have an LED light, an air purifier, and thunderbolt charger for my iPhone and iPad, all USB devices hooked into my USB hub.  So all I needed was one USB-C to USB, then that connects to my USB hub and I'm working the same as I was.  Apple has reduced the prices of these cables and dongles and, yes, they are additional purchases, but really, it's not bad.  Same thing when Apple (and others who followed) removed the Ethernet port, or if you have a Microsoft Surface, it's the same thing.  It doesn't come with it, but with a cheap one-time purchase, you can get that feature.
The new MacBook Pro coming with 4 USB-C ports…that's a lot of expansion, especially since it's not a one-to-one expansion.  What I mean is one USB-C to USB allows me to add a number of USB connections.  There are hubs that I'm eyeing on that with one plug give you an SD card, HDMI, and power pass through, just with using on USB-C port (so you'd still have 3 available for more expansion).  One cool thing about power being on USB-C is you can use any of the 4 ports for power.  If the left side works better for where you're plugged into the wall, you can do that…or the right side.  It doesn't matter!
Some other differences are on the keyboard.  The keys themselves have a shallower travel when you press down on it.  It feels sturdy.  I don't want to give silly feedback about this, but if you type a lot, it might take a few minutes to get used to.  I think the keys might be wider as well.  Not 100% sure.  The backlight of the keys is much better.  With the older MacBook Pro backlit keys, the light leaked out of the sides of the keys in an uneven light.  I had a Samsung that had really nice backlit keys and I missed that – but now the new MacBook Pro has even-lit, no light-leaking keys.  I think that looks very nice and it's a good finishing touch.
Also, near the keyboard, you'll notice the new trackpad is huge!  It's almost half the size of the keyboard, twice as big as before.  It's nice.  I haven't found anything negative about it, like it getting in the way or anything.  I also haven't found anything extraordinary to mention about it.  It's nice, but I don't know if it will help me do anything faster or better, though there's plenty of space for anyone with even large hands to do the gestures, which is nice.
Lastly, for now, the speakers are VERY loud.  Much louder than the previous generation of MacBook Pro, and there is more bass to the sound.  It has a depth to the sound that speakers in a larger case would create.  I'm not sure if I explained that well, but they are loud and sound very good.  Obviously, it can't compete with a surround sound system with a dedicated subwoofer, but for a laptop, top-notch sound.
I will continue to add my comments on here, but I'm fully happy with my purchase.  I'd 100% recommend it!
Go one step further and get Duet Display and use your iPad as a second monitor.  Technology is great!  Dual display, on the go, easy, light…I can't recommend it enough.  This is showing the new late-2016 MacBook Pro 15 inch and iPad Pro 12.9 inch.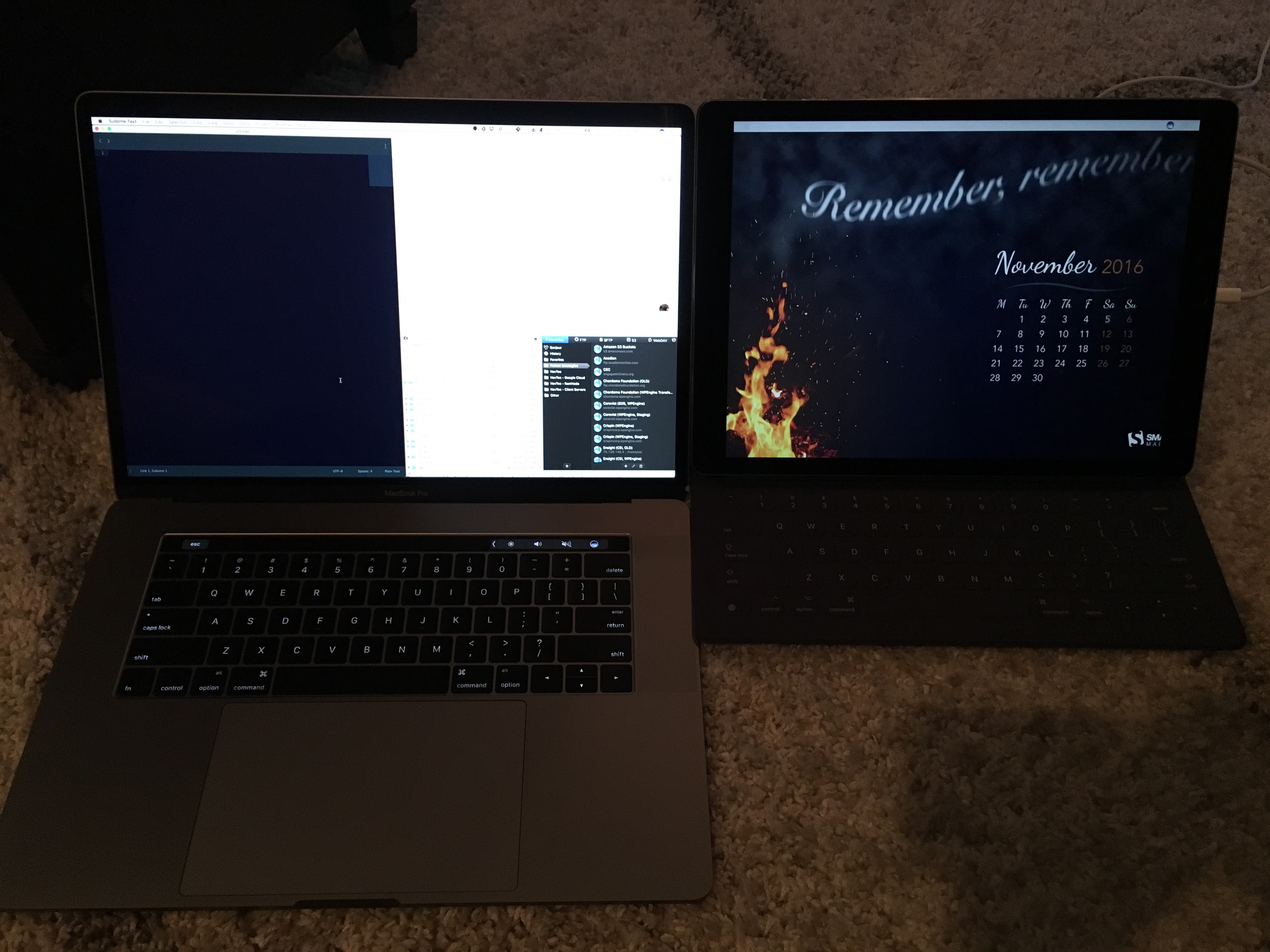 Update 1/4/2017
I received my thin plastic case for my new MacBook Pro.  I wanted to prevent scratches on the case when traveling, but have a clear case to show off the new space gray color.  The case I got is crystal clear, easy to put on, super thin, and so far has been really good.
[amazon_link asins='B01N0EXMJK,B01MSLWTGP,B01N2TDTTB,B01MSLDXKD' template='ProductCarousel' store='tjnebl-20′ marketplace='US' link_id='9957df76-d8e2-11e6-80fb-6b7fdb83415a']