So, I'm a little bit of a security nut, though I wasn't always.  A short back story, my wife and I live in a small town home community, it's a one-way street with 14 townhouses.  Each home has 2 reserved parking spots up front, and there are overflow spots for guests.  I have 2 Pontiac Grand Prix's, a 2000 and 2006.  They aren't expensive in terms of money, but they are invaluable to me – all of the memories, elbow grease, let alone the money I've put into them.  You can see both of them in this post (mostly the 2006).  Anyway, I had the 2000 parked out front, and as kids were playing in our community, they were running in between the cars and my mirror was broken.  Accidents happen, it's not like the kid meant to, but no parent ever fessed up, or paid for the damage, and that is what I have a problem with.
With no evidence of who did it, I knew I had to get a camera.  I've gone through 2 cameras in the front, settling on a fisheye camera.  I didn't realize that you can view the video in non-fisheye format, I thought it was always rounded.  That's true for any fisheye camera that I've spent time looking into.  Another awesome benefit of fisheye cameras is you basically have multiple cameras in one, you can set a certain number of virtual cameras (depending on the brand/model you get).  So, for example, you can have the camera looking at the driveway, the front door, the sky…whatever.  The sky can be cool, if you're into storms, you can speed through and see the lightning, rain, snow, etc.  Here's an example of rain that I think is cool to see.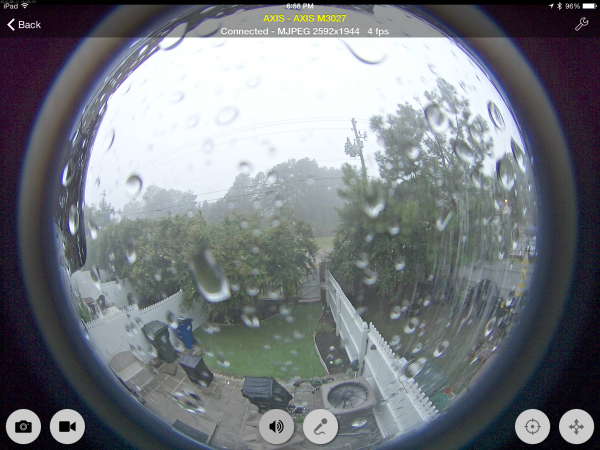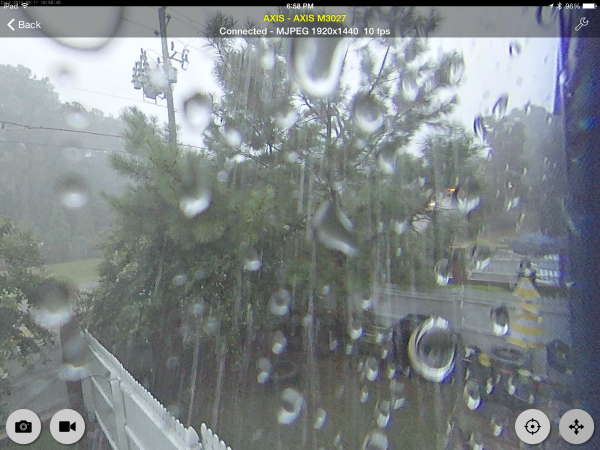 So, I first bought the Hikvision DS-2CD6362F-IV [Details].  The V in the model number means it's IP66 outdoor rated.  Keep an eye on that, because most fisheye cameras have an indoor and outdoor model.  The outdoor models will protect the internals getting water, heat, and UV damaged.  Look for IP66 or outdoor somewhere in the description of the camera you're looking at.
What I like about the Hikvision DS-2CD6362F-IV
The video quality is pretty good during the day (it's 6MP, so zooming in is pretty good)
The video pulls up quickly when I want to look at it
The administrative panel is nice looking and rather easy to navigate
It has audio, both listening and speaking ability, through the app (and other iTunes apps)
Video feed plays nicely with apps, I've been able to pull up the camera on apps like iVMS-4500 HD and LiveCams Pro
A very nice Hikvision specific app specifically for camera (iVMS-4500 HD)
Feed is buffered, so if the internet spots out or something, the video picks up where it left off…for example, if someone is walking by and then something happens to the internet, when it picks back up, you will see them continue to walk (instead of just missing that action)
What I don't like about the Hikvision DS-2CD6362F-IV
Night vision is poor, even though it has 3 built in infrared lights, but very close, like my front door view, is bright
I haven't been able to get it to record to the SD card in a motion event or other (that part of the admin panel is frustrating)
It works well with my NVR (QNAP TS451 Surveillance Station), so the above doesn't matter so much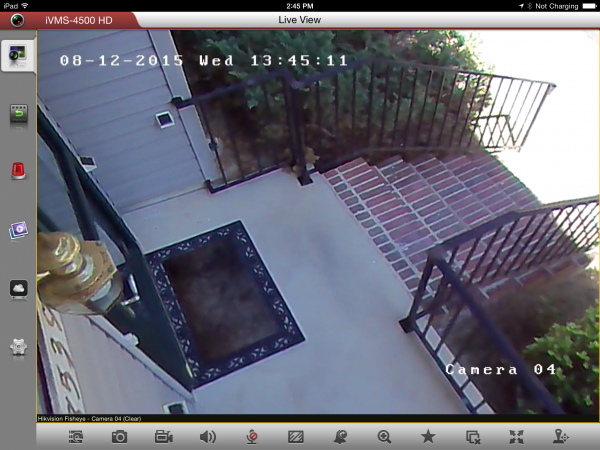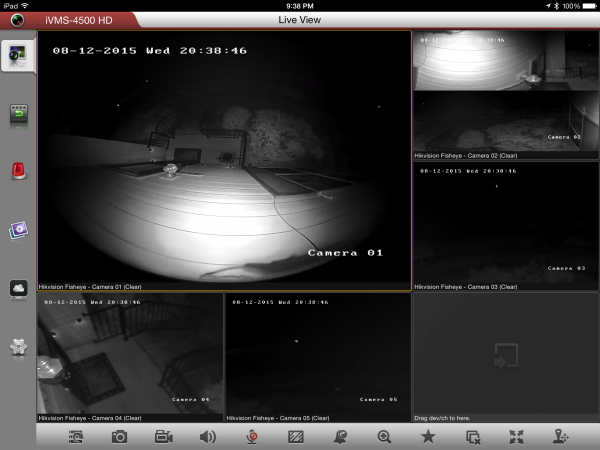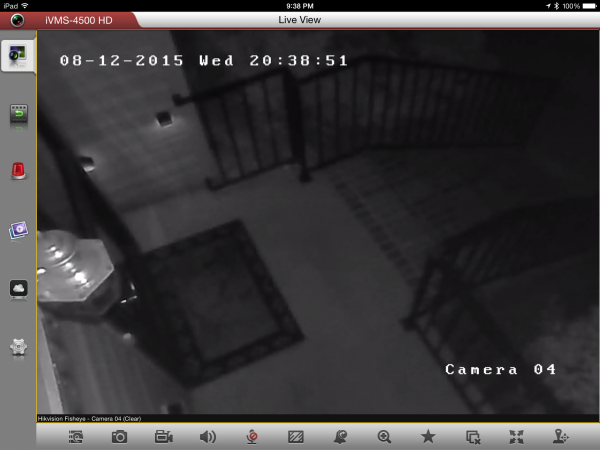 Last year I put the camera that was in the front in the back of the house.  I found a good vantage point to see my cars in the guest parking area that I now park in.  However, after our flood incident [read Part 1 here], the camera stopped working.  I'm not sure what happened, but after my experience with the Hikvision fisheye, I knew I wanted to pony up the extra money for a fisheye for the back yard.  I wasn't 100% settled on getting another Hikvision (their current model that I have, anyway), mainly because the back yard has less light than the front, and I the night vision is already poor.  So, I read up a lot on the AXIS M3027-PVE [Details], a lot about how the quality was really good.  I definitely agree, the picture/video quality is VERY GOOD on the AXIS M3027, even at night.  It does not have infrared, but it can see very well at night, though it can get grainy when just about pitch black.  It's better to see something rather than nothing in my opinion.  I haven't tested if this feed is buffered, but for the price, I would imagine it is?  I'll get back to you on that.
What I like about the AXIS M3027
Video / picture quality is superb
Easy setup and administration (as well)
POE (Power Over Ethernet) only setup (this is on both lists, it's good because there are less wires)
Video feed plays nicely with most apps (this is on both lists as well)
Works well with my NVR (QNAP TS451 Surveillance Station)
What I don't like about the AXIS M3027
I found setting up the apps a little bit of a guessing game, though LiveCams Pro using "Axis Profile 1" profile is the best
No audio (listening or speaking)
POE only setup (you are required to either have a POE switch or injector, not splitter)*
Both fish eye cameras are secure and have strong bodies.  They have a metal base that you screw onto the wall, within that is the SD card location, then a cover goes on.  You have to use a specialized tool (included, makes it harder for vandals).
Here's another comparison of low light – at dusk (though the 24-hour timestamp says it's 7:34-ish, it's just not calibrated to daylight savings).  This is taken at the same time.  The Hikvision switched over to black and white right after I took the color pictures, so I'm adding that to the comparison as well.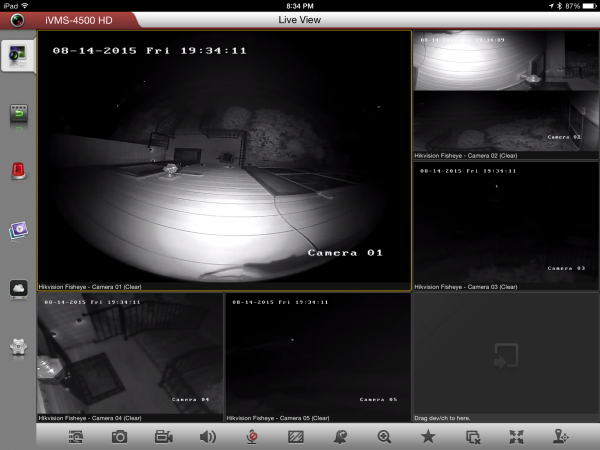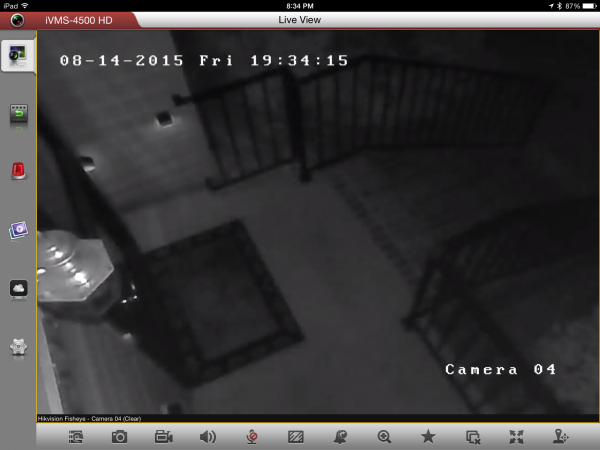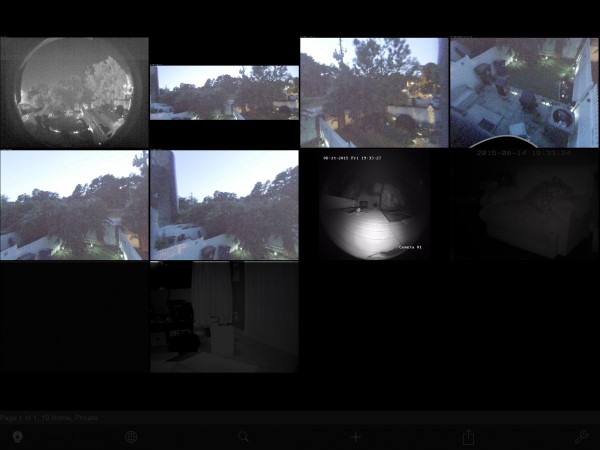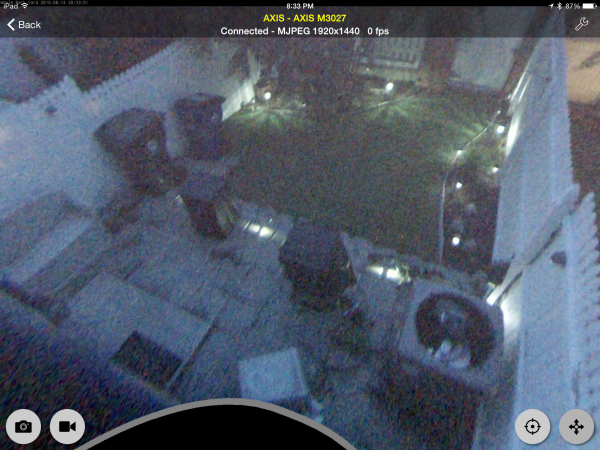 The POE injector is slightly different than the splitter.  The splitter takes a power cord and Ethernet, and on the other end, you use the inverse splitter (so there are 2 splitters to this type of set up) that plugs into the camera Ethernet and 5.5mm power plug.  The injector is a little more expensive and that powers the Ethernet cord itself.  Now that I'm writing this, maybe you just don't use the second piece to the splitter?  But I swear I tried that and I had to specifically get an injector.  I'll get back to you on this too.