Most people don't get that into cars or even pay attention to the little details, but I've always found having a clean car refreshing.  You can see any car from the dealership multiple times in the same parking lot, maybe even the same color, that's why making a car 'mine', being able to point out your car for sure in a parking lot is cool to me.  Maybe it's because my first job was at Delta Sonic, a car wash in Rochester, NY.
Backtrack to February 2004, I just bought my green 2000 GTP and I had many plans for customizing it – so much so, that as soon as I pulled the car into the driveway at my mom's house, my friends Mark, Justin and I were modding the car with parts I researched for weeks and bought the week before.  After a year or so, I bought the SD Ram Air Hood and really like how it has distinguished the car for years (I just passed owning the car for 10 years).  Just over four years ago, I was having some expensive problems with the GTP, but I couldn't imagine getting rid of it.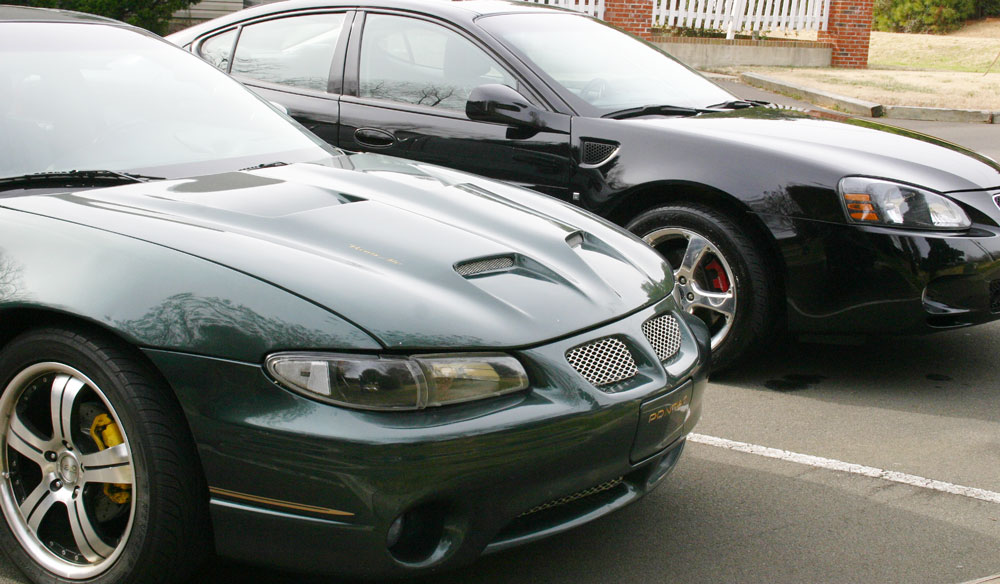 I bought the GXP and a lot had changed in my life, I was single at the time, just bought a townhouse, making a low salary at my job at the time, no savings – I really just wanted to get tint for the car and call it quits.  As time went by, I added the things I love in the GTP, like the projector halo CCFL headlights, LED tail lights, L5 solobaric sub, red interior lights, etc.  I thought the Infero Ram Air Hood was just a dream, once you factor in the cost, paying for it and finding a paint shop (shout out to Bob at Affordable Auto Painting, Raleigh, NC) that will assist you with the freight delivery and the cost of paint and blending, it becomes further out of reach.  I'd been thinking about it on and off for about a year, seriously for about 5 months.  I knew myself and I knew I would obsess about it until I got it.  Well, I finally did get it and I'm still obsessing, but in a different way – about how cool it looks and it blends in with the side panel grills.  The Infero Ram Air hood for the Pontiac Grand Prix looks aggressive and goes great with the sound of a V8.