If you haven't read Part 1 to this story, check it out to see how Ashley and I got in this situation of our house being gutted. Just a note: some of this post might seem a little all over the place, but I want to make sure we can look back on all the little details from this process at some point in the future.
So, now we've visited the house and gotten a company called Builder Services to start with a lot of work.  They had a team boxing up and moving our stuff out of the house, a team taking pictures and recording the damage levels, and a deconstruction team that over the next couple of days ripped out the walls and floors.  Also, they had to find the culprit – at this point, we weren't 100% sure what did the damage.  There was speculation that it was the washer, a burst pipe, or the toilets.
Ashley and I were back out in Apex at her parent's house, awaiting confirmation of the issue that caused the damage – because that's not covered under an insurance policy.  It's comical in a way; they'll pay for everything that was damaged, but not the culprit itself.  This really was the beginning of living life day by day with almost 100% uncertainty about anything, basically.  We could be out a few thousand, or a few hundred, depending on what the issue was.  We soon heard back and found out that it was the toilet in the office / guest bathroom / Ashley's bathroom.  The flapper that seals the tank water from flowing into the toilet was solid, but the float, which tells the water to start or stop flowing, broke, so the water just kept flowing out of the top of the tank onto the floor.  It turns out they don't make floats with metal anymore, and it makes complete sense, because the part was extremely rusted and it must have had its last flush before we left, before it couldn't take the pressure of holding the float anymore.  It really was a freak thing, because there were absolutely no warning signs, everything worked just fine with the toilet and it didn't make noise or give any indication that something was broken.  This turned out to be really good news.  We had a plumber come out and rebuild the tank with all new stuff.  It's really just a $5 or $10 part at the store if you put it in yourself, but come have a professional do it, and it's over $100 – however, it's really cheap in the big scheme of things, and at least the work was fully warrantied and protected by the plumbers insurance.
That was the first piece of good news we got in the first 3 days or so.  By this time, all of our contents had been boxed up and moved out to Creedmoor, and the deconstruction of the house was almost complete.  CJ and another guy worked really long hours and kept really close tabs with me on the progress.  He said when they were finishing up that some of the carpet was going to be there and a bunch of fans and dehumidifiers were going to be running for about a week to dry the place out.
Sidenote: CJ had an anniversary coming up with his girlfriend and  liked a quilt my mom made so much that he asked her to make the same quilt as a gift for his girlfriend.  If you'd like more details about a quilt, necklace, or craft project that my mom can do, go to the contact page.
We weren't sure what to expect, but this is what we walked in to.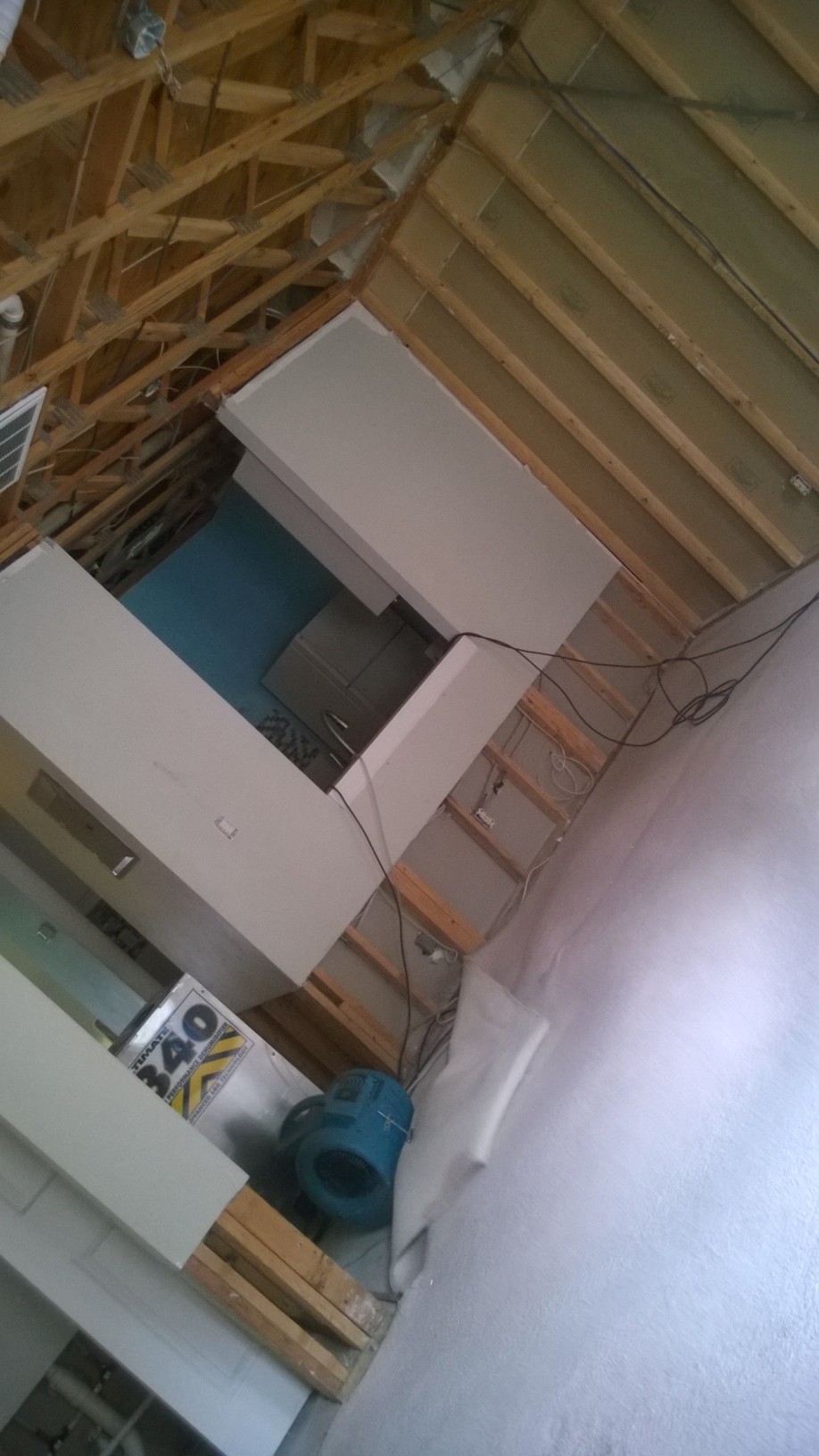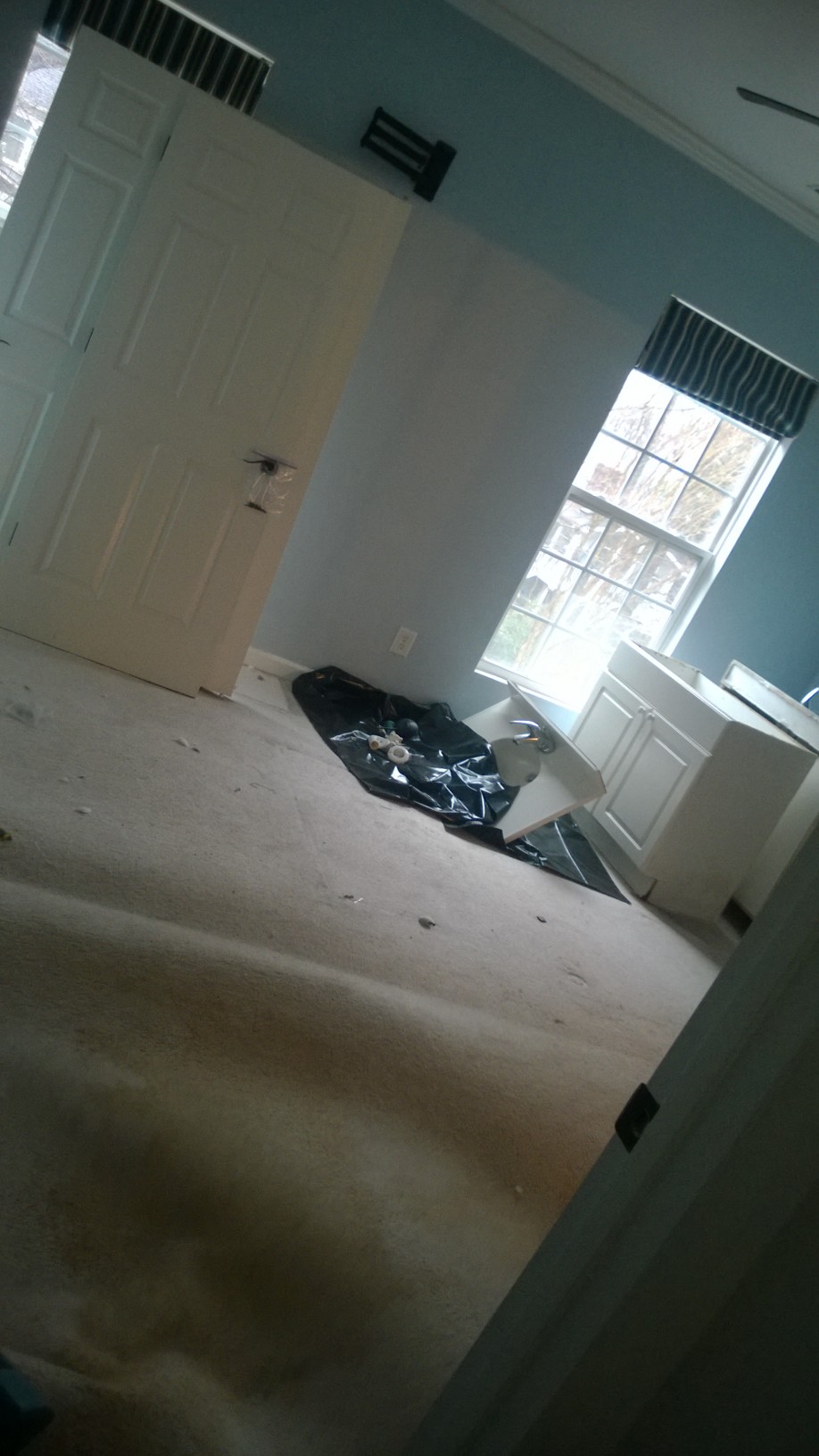 It was shocking, to say the least.  We spent a good amount of time taking it all in and looking at our home as a skeleton…it was really interesting to see it open like that.  It was really loud with all the fans going, so we pretty much had to yell and stand near each other.  We talked a little about plans and placement of furniture – but that was wayyyy in the future, and we didn't even know what we were and weren't getting back yet.  The pack-out team of Builder Services was compiling a list of everything that was damaged out, meaning Nationwide would pay for us to replace.
Back at the Billingsley's, my mom and aunt Donna (her twin sister) sent us a blanket and a card.  It was really nice to get that package.
I started moving pretty quickly, thinking of ways to organize the rooms to be a more efficient use of space, as well as thinking of some "needs" and wants.  Nothing on the list is really a necessity, but it's more or less a list of things that we should think about upgrading or doing now that the place is bare.  For the next couple of months I kept reiterating, and when I'd tell people our story, that this is the time we can get the cheapest upgrades.  For example, I really wanted Ethernet run into the other rooms and with the walls up, it would be pretty expensive, but since everything was bare, I figured it would be easy for the installer, and the time for us to get that upgrade.
I like to be prepared.  In our living room, where we have AT&T Uverse internet and TV, there's a lot going on.  There are wires everywhere.  So, I started writing out everything that needed to be plugged in to the electrical outlet and to the Ethernet.  I'm a bit of a nerd and I had to spend a little extra time figuring out what should be plugged into our uninterruptible power supply (a battery backup that when the power goes out, things stay on for 15 – 30 minutes), and what should be plugged into a regular surge protector.  Also, I've got quite a setup on my wireless router with rules that allow our many devices to talk to each other inside and outside of our home, a VPN setup, web servers, cameras, etc – way more than the typical homeowner needs to worry about – but those are the cool nerdy things that I really enjoy =).
Within the next couple of days, we would meet with an insurance adjuster who came to take measurements and such, but we found out that we had to be passed off to the Large Loss department and meet with another insurance adjuster.  It was really scary up until after we met with our large loss adjuster, Larry Hinsley; he was such a pleasure to work with not only that first day, but throughout this whole process.  But until we met with him, we hadn't had confirmation of payments of any sort.  Is the damage covered?  I've always heard flood (from weather related water) damage is typically a separate policy than your regular homeowners policy.  I just had a feeling we'd get screwed.  How often do you really think about insurance until it's time to use it?  I thought most of our stuff was damaged, and what wasn't, we'd have to fight to get back since it was packed away at a storage facility, and we'd be on the line for paying for our house that was currently bare bones.  Definitely a pessimistic thought, but that's what happens after days of thinking and never being through the process and not hearing confirmation either way.
So when we met with Larry, we had to explain everything to him – it would be the second of many times we'd be explaining to people throughout the whole process – and go on record on a voice recorded session of what happened, sign some papers, and then we left him to take measurements and assess costs.  We found out that everything was covered and that there are 2, well really 3, parts to the payouts.  First, there is the structure damage payout, then there is the payout for the damaged contents.  The third part you may or may not need, but that's an allotment for temporary housing.  We initially weren't interested in moving from her parents house into an apartment, that is until we heard it might take 3 months to get the place finished.  There was plenty of work to do, but I didn't think it would take that long because I've seen construction workers build a house or commercial building extremely quickly.  Anyway, it did take 13 weeks in the end, and I am glad we were able to find housing closer to our townhouse.  I'll go into the apartment later.  Living at the Billingsley's was really nice, their place is huge, so we had plenty of space, and it was so extremely nice of them to have us there – we definitely felt welcome and they took care of us very well.  We'll always be thankful for their help then and always.  However, their house is quite a ways away, so meeting people at our home was time consuming and expensive on gas and tolls, so the apartment helped alleviate some of the time and expense problems.
A couple of days later, we met with Larry at Starbucks to go over the list of damaged contents that Builder Services finished compiling.  Looking back, we were a little unprepared, because we ended up sitting there for 5 hours going over model numbers, finding comparable products for the products we owned but were no longer made – for valuation, etc.  But, we left there that day with a big fat check – or so I thought.  It turns out that when you're replacing a lot of stuff at once, like furniture and electronics, that money goes REALLY fast.  I knew that it was kind of a "too good to be true" situation, well, that might not be the right term, but I knew that it seemed like a lot of money, but I was determined to keep extremely close tabs on purchasing, payments, and knowing how much we had left.  So for the next few months, I basically put aside at least 15 minutes a day, every day, to keep track of what we bought, when to pay the credit card, categorize the purchase in Mint, etc.  It was super important because neither of us has consistent income since we are trying to live the dream working for ourselves.  When life is normal, inconsistent paydays are hard to deal with, but add all of this on top of that, I just wanted to make sure we wouldn't blow through all of our savings for upgrades.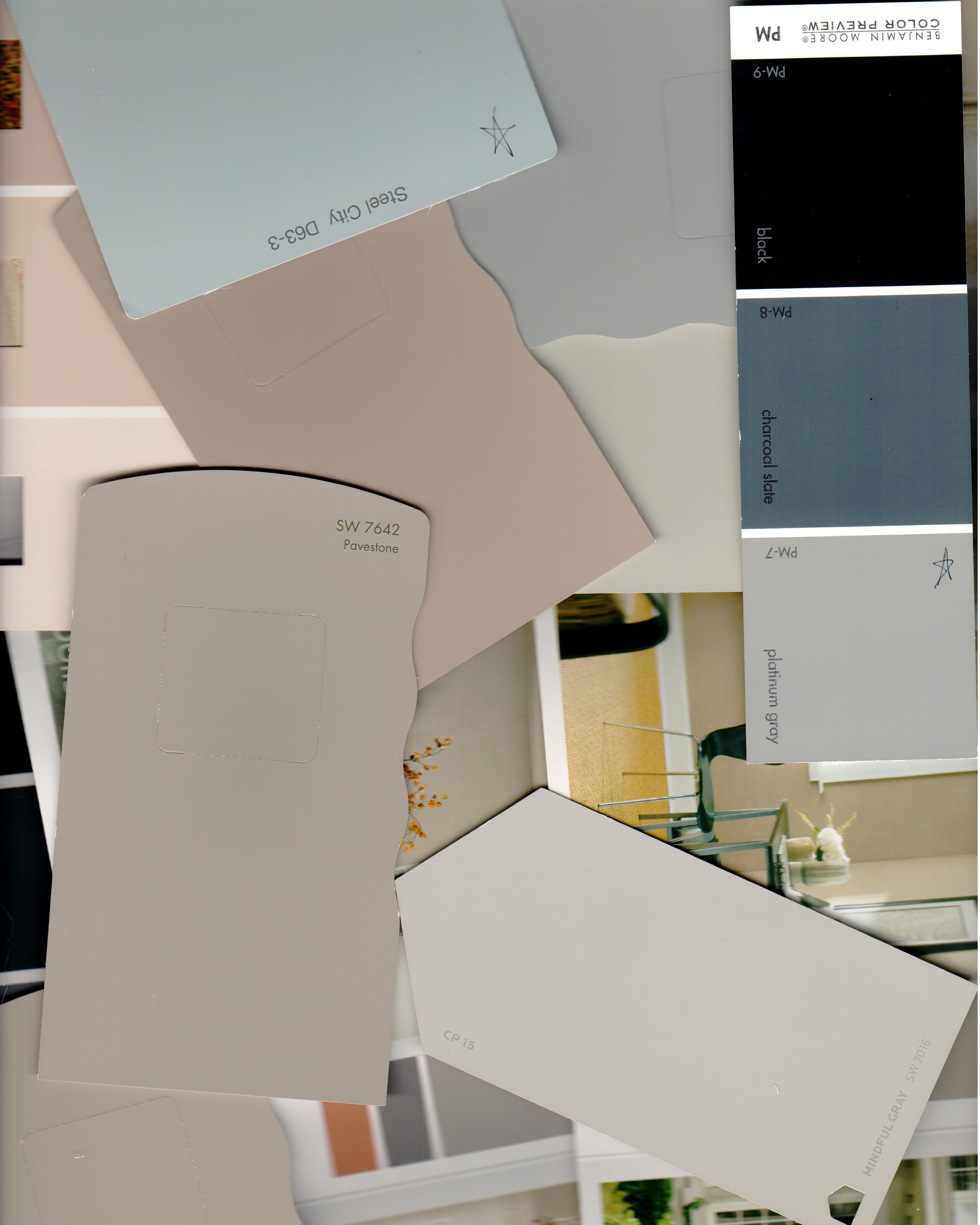 Over the next number of weeks, Ashley and I would find ourselves doing a lot of research on paint colors, light fixtures, upgrades – we found ourselves talking to a lot of flooring stores, visiting Lowes for ideas, thinking of how to better organize the office, Ashley's craft area, our clothes, etc.  I was still researching the idea of running Ethernet wires into the other rooms and speaker wires.  I found a membership promotion to Angie's List – perfect timing, right? – so I signed up, called 2 home theater installers, one of which, Home Audio Solutions (out of Garner, NC) I met and had them take a look at the place and give me a quote.  They were great to work with and fast. The Ethernet and speaker wires, for mounting the speakers on the wall, were a great upgrade for a tech enthusiast like myself.
This blog post is starting to get pretty long, so I'll continue with the apartment in Part 3.  I want to leave you with some food for thought.  Take a look around your home…how much of it do you actually need?  How much of it would you miss if it was gone?  What could you live without?  The purpose for these questions is just to get you thinking.  Ashley and I found out through this process that there is so much stuff that we could live without.  It really humbled us, but it also confirmed that the lifestyle we want is not just having a bunch of stuff, but having a smaller house, with nice upgrades, and the flexibility to spend extra money on the things we use all the time – like in my case, electronics; computers, cameras, NAS systems.  I've always spent more money than the average person on electronics, but not only is my hobby programming, that's how I make my living, and I like our self-built security system – I mean, it was what alerted us to the water damage and probably made it less overall damage than it would have been if we came home after Christmas.  I've always been about efficiency, trying not to keep something just to keep it doesn't make much sense.  For instance, you can scan receipts and keep a digital copy instead of storing a physical copy, or what about that birthday or Christmas gift that you use twice but by the time next season comes around it has collected a bunch of dust?  What's the point?  I think part of this mental conclusion was going through this process and extreme spring cleaning (that I'll go into detail in a later post), but also how we don't have the disposable income like we used to because I want to try to live my dream running my own company.  I wish it wasn't so hard to live your dream by running your own company – I mean life is meant for living, not spending more than half your week behind a desk, being in the company of people who are as miserable as you at a job – but that's another story.  Until next time!
Continue this story in Part 3.