Kitchens are a huge selling point for a house, so nice features create so much value.  The good thing is retrofitting your kitchen for soft close drawers is much cheaper than getting new ones, and the parts are very inexpensive!  Even though drawers are harder than the cabinets, it still only took about 2 hours to do all of the drawers in our kitchen.
One thing to note is to look at your drawer – ours has metal sides that actually has the rollers built in – though efficient, it reduced our options.
I bought a ball bearing drawer slide before really looking into the type of drawer we had in the kitchen.  What do I know?  I tried to install them anyway and it was tough for a few reasons…it wasn't just a simple replacement of the slider (that would be easy), it was measuring, drilling into the metal drawer, and then finding our cabinets have more error margin than the slider allows for.  The slider pieces – the part on the drawer, and the part inside the cabinet – have to be within millimeters for it to work properly.  I will say that I can see that it would work as long as your drawers already have ball bearing sliders!
Another thing to keep in mind is there are various sizes of ball bearing slides, so measure yours.  I would guess that 14″ is normal.  I bought a 22″ and for a typical knife drawer, that's incorrect.  I didn't know what to measure because my drawer wasn't fitted with slides – but if you're going this route, it would be easy to measure what's on drawer already.
OK, that was more about my own stupidity, but if you haven't taken a look – it could save you some time and money.
I found a product that was EXACTLY what I was looking for.  It requires no measuring, and retrofits nicely.  Another weird thing with our kitchen drawers is they have reinforcement around the edges, which put one piece of the product at an angle.  The good news is that doesn't really make it harder – it still works just fine.
With our metal drawers, I used 2-Pack Soft Close for Metal Drawers.  However, they have a product for wooden drawers here, 2-Pack Soft Close for Wooden Drawers.  I'm not sure if they are interchangeable – I would imagine they label them as such for a reason.
A money-saving tip: Drawers only need 1 set installed, unless it's a heavy or large drawer.  Our knife drawer is the width of 2 regular drawers, plus it has the extra weight of metal utensils, so that's the only drawer we used 2 units on.
The install is very easy, as you can see from the video.  You put one piece on the bottom of the drawer, as close to the front as you can.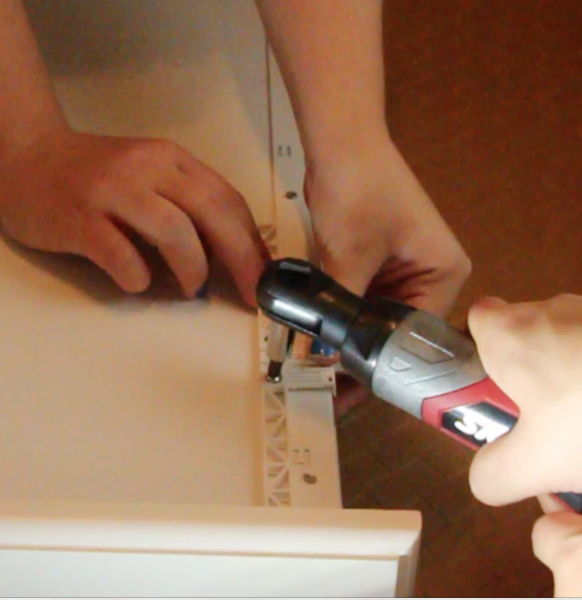 Then you put the drawer back in to mark where the second piece will go inside.
The second piece comes with a guide – all you have to do is line up your mark in the "window", screw in the unit and remove the guide.
Once you put your drawer back in, it'll close regularly, but pull it back out and enjoy the soft close!